The House Speaker's candid comments about Donald Trump drew the ire of the former president's supporters amid McCarthy's already fragile hold on his conference.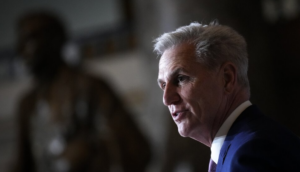 House Speaker Kevin McCarthy has faced backlash from Trump supporters after making comments about former President Donald Trump's strength as a presidential candidate. McCarthy stated in an interview that Trump could beat President Biden but questioned whether he was the strongest candidate for the job. Trump's support has played a significant role in McCarthy's political rise, but their relationship has been complex. McCarthy initially criticized Trump for his involvement in the January 6 events but later reconciled with him. However, a recently surfaced recording revealed that McCarthy had considered asking Trump to resign for his role in inciting the Capitol riot.
McCarthy attempted to backtrack on his comments, emphasizing Trump's strength and claiming media reports were attempting to drive a wedge between Trump and House Republicans. Nevertheless, some staunch Trump supporters found his backtracking insufficient. Steve Bannon, a former Trump adviser, criticized McCarthy on his podcast, accusing him of undermining Trump constantly. McCarthy has been struggling to manage an unruly and divided Republican conference, as demonstrated during the recent debt ceiling fight. Outbursts from conservative members and a focus on retaliating against Trump's indictment have disrupted the functioning of the chamber and shifted attention away from policy priorities.
The comments about Trump are a setback for McCarthy and further fracture an already divided conference. This situation poses challenges as Congress faces a busy legislative season, including passing appropriations bills and dealing with deadlines for the National Defense Authorization Act and the farm bill. The House has struggled to pass substantive legislation outside of the debt ceiling deal, primarily focusing on messaging bills with limited prospects in the Senate. McCarthy's slip-up may lead some conservatives in the conference to consider motions for his ouster, further complicating the functioning of the House and legislative progress.